Warn XD9000 Low Mount Winch FULL Warn Warranty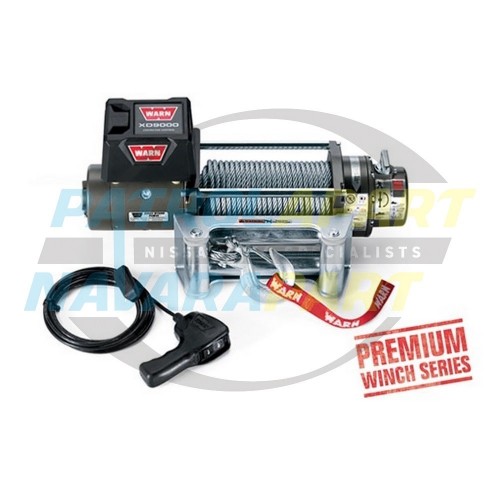 Part Number: CEXD9000-88500
Brand: WARN
WARN XD9000s
Aussie Stock, Comes with Full Limited Warn Lifetime Warranty On all Mechanical Components
Our Winches are genuine Warn Winches, Purchased from the Australian authorised distributor of Warn. meaning they have Full Warn warranty, un-like some privately imported winches.
Don't Get Caught out, "GO PREPARED"
New, next generation electrical control box and hand-held remote control

Low-profile design and separate control box allows for a wide range of mounting options

Exclusive brake design provides superior control while winching

Durable 3-stage planetary geartrain for smooth, reliable, operation

Series-wound, high-speed motor provides fast line speed and strong pulls

Chip-resistant, powder-coated finish

100' of 5/16" (30m of 8mm) diameter wire rope
XD9000 SPECS
Part number: 88500 (12V)
Rated line pull: 9,000 lbs., (4080 kgs.) single-line
Motor: Series Wound: 12V 4.6 hp, 24V 2.5 hp
Electrical controls: Contactor
Remote Control: Remote switch, 12 ft (3.7m) lead
Geartrain: 3-Stage Planetary
Gear ratio: 156:1
Clutch (freespooling): Sliding Ring Gear
Brake: Automatic Direct Drive Cone
Drum diameter/Length: 2.5 in/9.0 in (6.4cm/23cm)
Weight: 78 lbs. (35kgs.)
Wire rope: 100 ft, 5/16 in dia. (30m, 8mm)
Fairlead: Roller
Recommended Battery: 650 CCA minimum for winching
Battery leads: 2 gauge, 72 in (1.83m)
Finish: Argent Gray Powder Coat
12V DC PERFORMANCE SPECS

Line Pull
Lbs.(Kgs.)
Line Speed
FT./min(M/min.)
Motor
Current
Pull by layer
layer/Lbs(Kgs.)

0

38(11.6)

70 amps

1/9000(4082)

2000(910)

14.4(4.39)

180 amps

2/8190(3715)

4000(1810)

11(3.35)

255 amps

3/7500(3402)

6000(2720)

8.67(2.64)

330 amps

4/7010(3180)

8000(3630)

6.88(2.10)

415 amps

9000(4080)

6.38(1.94)

460 amps
Winch Dimensions: 21.8" L. x 6.3" D. x 7.6" H.
(555mm L. x 160mm D. x 193mm H.)
Mounting Bolt Pattern: 10.0" x 4.5" (254mm x 114.3mm)
Due to Demand, We don't always have stock on the shelf of this item.
Once paid for, this item will be ordered and will be dispatched to you in approx. 1-2 weeks.
If there is any problems with Availability, we will get into contact with you straight away.
If you're planning to pick one up from our shop, Please give us a call and we will make sure to have one ready for you.
User Reviews
---
Please
Login
to add your review.